Replacement Parts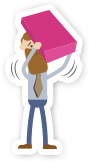 Replacement game components? Game instructions?
It's frustrating when missing pieces ruin your fun. We would like to help if we can! Please fill out the form with your details including the name of the Ravensburger game and the 5/6-digit product code number as found on the side of the box, and send it to us with a message briefly explaining your problem.
Please understand that we cannot replace game boards or complete sets of game components. Unfortunately, we are unable provide replacement parts for discontinued games.